Busch SWH 90 pile turner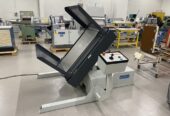 Overview
Category :

Paper stack lifts, joggers. pile turners.
Description
pile turner
Busch SWH 90
The device is like new, fully functional, ready to work.
Machine from the offer of the German manufacturer Busch.
This is a currently produced model.
Technical data:
Format 900 x 620 mm
Stack height: max 1240mm, mim. 420mm
Capacity 500 kg
Device weight 650 kg
380V power supply
Control from the desktop, fast work, hydraulic drive.
Quiet work.
Compact design, takes up little space.