Graphic Whizard CreaseMaster Plus digital creaser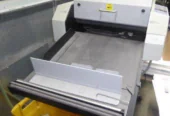 Overview
Category :

Grooving and perforating machines
Description
Graphic Whizard CreaseMaster Plus digital creaser
Build: 2014
is ideal for the mid to high volume users ensuring a professional finish for every job.
This pneumatic model is available in two production speeds; 3600 sph or 4600 sph and
both offer multiple creases per sheet, job memory as well as options such as Strike perf and Impact perf. The system incorporates a user-friendly touch screen allowing for easy set up and programming, as well jobs can be stored and quickly retrieved for future use.
Key Features
Inverted and regular impact creasing in the same pass!
Up to 10 impact creases per sheet
Up to 20 jobs can be stored into memory
Rotary perforations (at the entrance of the machine for accuracy; no tail whip) are anvil style and produce a "burr-free" finish. Microperfs are also available
Optional strike perf attachment and Impact Perf available for box or T perfs