Polar Mohr 92 EMC-Monitor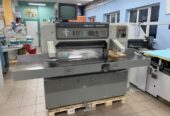 Overview
Category :

Guillotines, cutting machines and accessories.
Description
Paper guillotine
Polar Mohr 92 EMC-Monitor

Technical data:
Cutting width: 920mm
Stack height: 130mm
Display programmer
Air table
Photocells
Chrome table surface
Optical cutting line
Side tables
Weight: 1890 kg
380V power supply
A set of tools, tapping block, a spare knife and one in the machine.
The machine is in perfect condition, 100% operational.
After the check, ready to go.
It is the most valued brand among guillotines, a flagship product.
It is possible to equip the machine with a shaker and a lift.